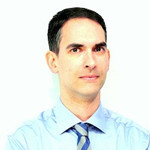 Dear Friends,
As VP of Special Projects, I am excited to speak about our second Master Class of 2017 on "negotiation".
On this full day course, you will learn how to negotiate with your customers, service providers, stakeholders, managers and project team members as well with your personal business partner". More information can be found at https://pmconference.ch/
Project managers need to be flexible in this fast-changing environment. The PMI Switzerland Chapter organises magnificent events with diverse topics that help you not only in your daily business life, but also in your private life.
For the new members, this is also a fantastic opportunity to meet people from similar fields and share ideas via our social events: PM lunch and events.
Looking forward to meeting you at our next PMI events.
Best regards,
Mark Veraguth
VP Special projects