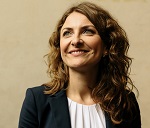 Author: Agata Czopek, PhD, PMP
It is with the greatest pleasure that I would like to invite you for upcoming Annual Membership Meeting on February 6th in Zurich. This year the event will be very special – for the first time in PMI Switzerland history we will have a PMI President and CEO on stage. Sunil Prashara will be our special guest and keynote speaker on the topic of "Powering the Project Economy". From my personal interaction with Sunil I have to assure you that he is a very kind and approachable person, great speaker and a very good listener. I encourage you all to take this opportunity to speak with Sunil, ask questions about PMI future and share your needs when it comes to development of the profession. Knowing details of the event I assure you that we will have a lot of good humor and inspiring discussions. The event is free for our Members and is organized in a beautiful location just at the lake side.
Hope to see you there!
Agata Czopek, VP Social Good