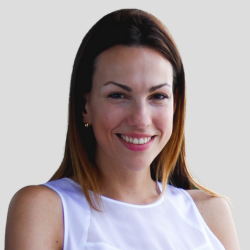 Lucila Dotto
PMI Europe Head of Community
Lucila Dotto serves as the Europe Head of Community of PMI, where she assumes leadership of the team dedicated to fostering connections, enabling growth, and empowering the PMI Community throughout Europe.
She is an Organizational Psychologist, and she holds a Master in Marketing and Communications, among other qualifications.
Lucila is an SME in culture transformation, leadership development and behavioral change.
She is experienced in designing and implementing strategies that foster collaborative and high-performing teams in diverse work environments, by merging academic insights with practical expertise.
Presenting
Megatrends, the future of work and the power skills we need to succeed
We're living in a world with an increasingly high rate of change, requiring people and organizations to develop transferable ways of working to adapt. In 2021 we learned there might not be a new normal, only the perpetual and accelerating pace of change. As PMI actively monitors the technological dynamics, demographic shifts, and complexities of globalization that are reshaping our world, six megatrends stand out based on their impact and the implications for projects across the world.
Digital Disruption
Climate Crisis
Demographic Shifts
Economic Shifts
Labor Shortages
Civil, Civic, and Equality Movements
Based on these Global Trends we have found our future-proof skills that will boost your employability and get connected to exclusive career development resources by Project Management Institute. You'll learn:
Top global trends that are shaping today's workforce
How organizations are restructuring to adapt
Why project-based work is leading the economy
Some of the future-proof skills that professionals need to succeed in any industry

The future of work: AI and Talent