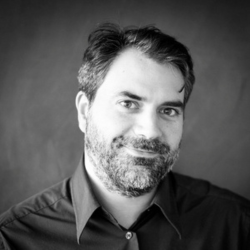 Damien Gauthier
Founder @ ImpactfulSpeaking
Damien Gauthier is a seasoned professional who draws from his diverse background to elevate your communication skills to new heights. He combines his expertise as facilitator, UX lead, and team manager, with his experience as actor, director, and TEDx speaker coach to provide you with powerful techniques that can be immediately applied in your next meeting.
With a holistic and constructive approach to speaking, Damien helps you master the fundamentals before guiding you toward the development of advanced skills.
He has enjoyed a successful collaboration with PMI Switzerland, delivering Impactful Speaking workshops and a 2-day masterclass that have left a lasting impact.
Trust in him to transform your communication abilities and unlock your true potential.
Presenting
Impactful public speaking workshop for PMs
In a world where the best communicators often get the upper hand, this workshop empowers you with core speaking skills to stand out. In line with PMI's 2023 report, which identifies communication as the top power skill for project professionals, you'll learn actionable frameworks and professional-level techniques to craft clear arguments and deliver them confidently.
Target audience: accessible to everyone but particularly useful at expert and leader levels
Format: 90 minutes workshop with supporting presentation and physical workbook distributed to the participants
Delivery: immersive, hands-on workshop, going beyond tips and tricks and resulting in reduced anxiety, improved presence, and persuasive communication abilities.
Learnings
You'll dive into powerful field-tested frameworks to sharpen your presentation structure and exclusive professional-level delivery techniques. The immersive, hands-on training ensures you'll leave with these skills firmly embedded.
At the conclusion of this workshop, you will:
Conquer stage fright and anxiety for confident presentations.
Boost your presence and charisma to captivate your audience.
Structure compelling arguments to persuade effectively.
Apply newly gained skills across various professional contexts.
Stay relaxed and focused during presentations, allowing for adaptability and control.