Social Media Posting advices
When posting to social media, you want to have the people click on links to bring them to the website. It is not a single view story. We want subscribers to engage. To achieve this they must be captured by the website.This allow us to track them and to possibly offer them other links, events, etc..
Here are some advices ...
Social media Channels and their particularities?
Linkedin :
We can - and must - place a link on the posts.
On Linkedin, you can post a picture with very very few text. then place the text (rather small) to explain the picture and give some teasing ... "Are you searching what certifications to do next? Join our event on ... bla bla ..." and then place the link.
Some examples: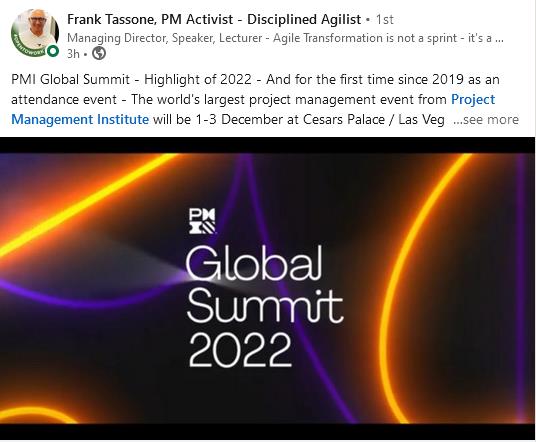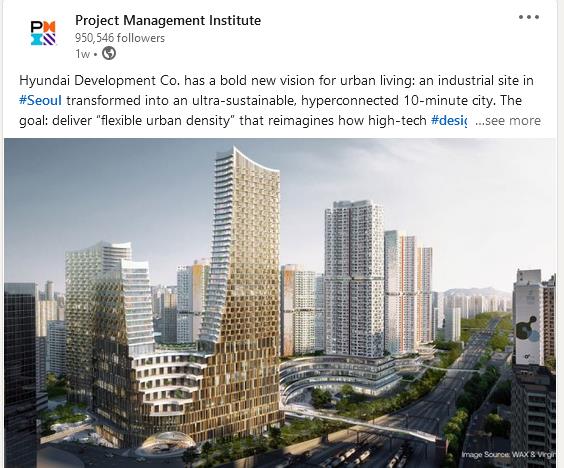 Linkedin will propose a "see more" link to develop the view if the post is too long. That is fine.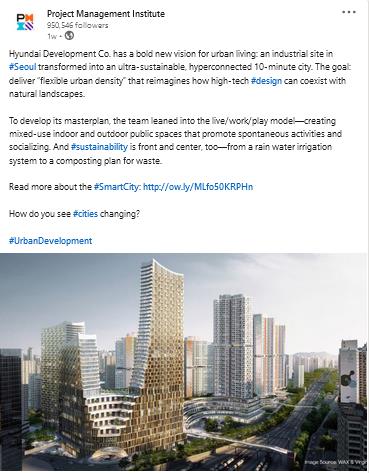 Links in Linkedin :
We shall add those to the links : ?utm_source=linkedin&utm_meduim=linkedin&utm_campain=XXX
where XXX is for example 2022_10_10PMEventlunch to promote the event lunch on 10.10.2022.
Facebook and Instagram :
It will be documented soon.
Links in Instagram:
Links are not possible on Instagram if we have less than 10K Subc.
Twitter
The picture format in Twitter for a post is 1600 x 900.
Here also, refrain to put unreadable text on the picture.
Create a small text to comment the picture and place the link
Links in Twitter

We shall add those to the links : ?utm_source=twitter&utm_meduim=twitter&utm_campain=XXX
where XXX is for example 2022_10_10PMEventlunch to promote the event lunch on 10.10.2022.
TikTok
No rules at the moment as this is a early stage account, still under test.
How to create a productive post
How to create the link ?
Yes you need to add some parameters to the link so that it can be tracked by the website.
you can go to ; https://ga-dev-tools.web.app/campaign-url-builder/
For the link "Website url" : use a copy paste of the url of the page or event you want to promote.
campain source : emailNotification or LinkedIn or Twitter or Facebook or Instagram or TikTok
campain medium email or Linkedin or Twitter or instagram or TikTok
campaign name : place here the campaign source & "_" & the date (exemple 2022_11_03) the format is not so important.
the online tool is proposing you the generated url. just copy the url
an example : https://pmi-switzerland.ch/index.php/events/ipmd22-zurich?utm_source=linkedin&utm_medium=linkedin&utm_campaign=Linkedin_EventName-if-multiple-event-same-day_Date-of-Event
Do we need to shorten the link
No!, Linkedin does it for you and the shorty or other plaforms are banned for security reason in some company. Yon cannot verify if http:soorty.me/1234 goes to pmi or a malicious website.
QR-Codes
Same remark. First it is complicated to identify if it will be malicious website or legitimate PMI.
Further more QR-Code aren't welcome in Social Media Post in general .
Hash Tags
Hash Tags are not useful for people who follow us on the channels but is used by the social media algorithm to propose the post to people following the same type of interest.
Basicaly it is very useful. The social medias proposes when we type different ones but it is a good practice to place our #pmiswitzerland #events and add if it is businesslunch or #learning #PMP #PDU ... don't be shy on hashtags. If you are running an event in a special place, look for the social media that the place has and tag them.