SWARMING, working in a digital age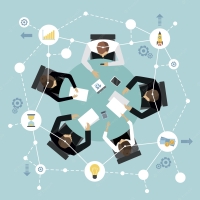 "Swarming is a new word coming in digital transformation as a word for initiatives. Swarming is a natural behaviour when birds leave their nests to experiment with some things, such as migration, nesting, and so on". Our guest speaker - Pierre E. Neis.
In today's fast-paced business, technology and digital era, projects and products are expected to be completed rapidly to a high standard to delight the customers and end-users.
The idea of Swarming in agile is for several teams coming together to work on projects to eliminate delays and low quality of work by coordinating teams to work on priority tasks to accomplish results. The concept has been around for over a decade. Agile teams with various skills work collectively on the highest priority and high-value items to complete tasks quickly and efficiently to reach common goals.
---
Our speaker
Pierre E Neis

Before moving to agile, fifteen years ago, Pierre had solid experience as a Portfolio Manager and Kaizen (Lean) coach in industry and finance. For the last decade, he has accompanied around 200 companies around the world in their agile journey as an Executive Coach, Organisational Coach, Consultant or Mentor: CNRS, SAP SE, SwissRe, IN Groupe, AXA, BNPParibas, GlobeMed, Euroclear, ArcelorMittal, Daimler Group, etc. He has several certifications like Master Agile Coach, Certified Enterprise Scrum Trainer, Business Agility Coach, CSPPO, CSP, CSPO, PSM or Personal Agility Ambassador. Pierre is the author of "The New Normal: AO concepts and patterns of 21-st century agile organisations", "Swarming x4" and co-creator of #play14. He has also contributed to several books and publications around agile management, social sciences and gamification. He leads his agile collaboration platformPRAXIS and is part of the Think Tank Open Eyes on the evolution of leadership. He is also a People Management Advisor for Disciplined Agile/PMI. Pierre is a BCG and MIT alumni.
---
Do you have a question or comment about this event?
---
Information on Privacy
With your registration, you consent that PMI Switzerland publishes any taken photos or videos from this event on all social media channels of PMI or PMI Switzerland.
Cancelation Policy
100% refund is possible for a ticket if canceled the latest 7 days before the event.
Event Properties
| | |
| --- | --- |
| Event Date | 19-05-2022 18:30 |
| Event End Date | 19-05-2022 20:00 |
| Individual Price | 0 - 15 CHF |
| Event language | English |
| No. of Strategic PDUs | 0.5 |
| No. of Technical PDUs | 0.5 |
| No. of Leadership PDUs | 0.5 |