Disciplined Agile – Interactive Live Online Workshop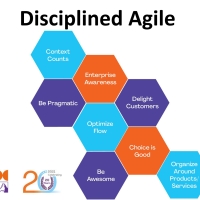 Introduction into the DA Mindset and the PMI DA Certificates
Event format
90 minutes interactive workshop
virtual training
4 professional trainers
About Disciplined Agile
Disciplined Agile (DA) is a hybrid process toolkit that provides context-specific guidance for individuals and teams and is known as the world's only comprehensive Agile Body of Knowledge.
Disciplined Agile is the business-leading process decision toolkit that links the collaboration of agile software development, DevOps, IT and business teams in your organization.
The Disciplined Agile (DA) Toolkit provides a simple guide to help organizations make context-sensitive choices about their Way of Working (WoW) to create a solid foundation for business agility.
The implementation of Disciplined Agile
Frank Tassone, Antje Lehmann-Benz, Daniel Gagnon and Frederic Lieser will present and explain how to implement DA.
They will give a short introduction and then they will explain DA with a show case and a practice example for an Agile Transformation with the DA Toolkit and how to choose your WoW, your Way of Working. At the end you can ask your questions and we will discuss with the DA experts.
DA Certification
PMI offers four Disciplined Agile certifications to create a comprehensive suite of agile training and certifications that extends beyond any single agile approach: DASM, DASSM, DAC and DAVSC. We will
explain what these abbreviations mean
show the added value of the associated ceritifiactes
and display the ways to become certifies
---
Our trainers
Frank Tassone

Frank has more than 25 years of experience as a classic, agile and hybrid project manager and training for project management. He trained more than 2500 people in project competencies, agile and hybrid. Frank was member of the first PMI DA Instructor Master Class at Atlanta 2019.

He is the 1st Certified Disciplined Agile Instructor & Coach (CDAC/CDAI) in Germany and the company he founded, ALVISSION Training was the first Authorized Training Provider (ATP) from PMI DA in Europe.

His Project Management Training and Consulting Company ALVISSION was 2019 awarded from German Ministry of Economy. With their Social for Goods Project "PM@VR for Kids" and "Live Project Management Training in Virtual Reality", ALVISSION Training became awarded with the 2nd place of the International Project Management Innovation Award (Academic stream).
---
Dr Philipp Diebold

Philipp is Founder of Bagilstein GmbH and a convinced advocate of 'individually matching agility' regardless of the application level of the methodologies.

As a Trainer and Consultant he helps his customers in all topics related to agility and agile transformations. He has also extensive expereince as Agile Coach, Agile Master, Scrum Master, Product Owner, Agile Leadership, Agile Organisation.

Philipp is a Doctor of Computer Science (TU Kaiserslautern), for what he chosed the doctoral topic "Finding the individually suitable agility" (using agile building blocks). He is also a lecturer at The University of Applied Sciences SRH Heidelberg for international project management (including part of PMI Educational Germany).

Since 2019 he is appointed as Chairman of the Project Management Working Group at BITKOM e.V.
---
Antje Lehmann-Benz

Project management and training expert - both classroom and online - with focus on Agile topics, Scrum, certifications (PMP, PMI-ACP, Disciplined Agile, Scrum Master & Product Owner), Project Business Management.

Enjoying to help people and organizations improve their knowledge and their skills as a trainer and agile coach.
Agile and business games / exercises included! Even those can be done virtually.

She can also look back at many years of volunteering for the Project Management Institute in Germany.
---
Frederic Lieser

DASSM, Digital Platform Expert and Trainer at ALVISSION Training loves to entertain the students and workshop participants with his Digital Learning and Collaboration Platforms.

He guides the people in an interactive and short while matter through the practice sessions.
---
Information on Privacy
With your registration you consent that PMI Switzerland publish any taken photos or videos from this event on all social media channels of PMI or PMI Switzerland.
Question or comment to the Event Organizer
---
Event Properties
| | |
| --- | --- |
| Event Date | 02-03-2021 18:30 |
| Event End Date | 02-03-2021 20:00 |
| Event language | English |
| No. of Business Acumen PDUs | 0.5 |
| No. of Ways of Working PDUs | 0.5 |
| No. of Power skills PDUs | 0.5 |