Disciplined Agile Certification Course for PMI Switzerland Members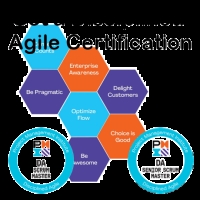 ---
True business agility comes from freedom, not frameworks.




Disciplined Agile helps you learn about your options and guides you to your best next step.
PMI Agile Certifications
Extend Agile beyond a single approach: Because true agility comes from freedom, not frameworks.
Each team has its own ways of working. Yet, you stick to a widely used framework or one of the numerous agile approaches out there. Sure, a framework can help, but the smartest path forward often borrows thinking from several. That's where Disciplined Agile can help.
The two avaialable DA Certifications
Disciplined Agile Scrum Master (DASM) - Entry-level Certification Agile Transformation
this is the right certification for you if you have no or little expereince in agile methods
Click this link to find the description of DASM from PMI
Disciplined Agile Senior Scrum Master (DASSM) - Expert Certification Agile Transformation
this is the right certification for you if you have already some expereine in an agile team
Click this link to find the description of DASSM from PMI
Reasons for Attaining a Disciplined Agile Certification
Increase your knowledge. DA certification requires a comprehensive understanding of Disciplined Agile Delivery, which in turn describes how all aspects of agile principles and practices fit together in an enterprise-class environment.
Demonstrate your professionalism. DA certification indicates to employers your dedication to improving your knowledge and skills.
Advance your career. As you demonstrate your increased knowledge base and leadership, DA certification can help you attain that new position or role.
How to become certified
Sign up for our 2-day training with one of our Disciplined Agile partners.
Complete the course to receive your DASM / DASSM exam invitation. You will have 30 days to take the exam and the fee is included in the participation fee.
After passing the exam, you will receive your certification, as well as a badge that you can share with your network.
---
And here is the special offer for PMI Switzerland Members
Our new partner ALVISSION Training offers a 20% discount for their DA certification course to all PMI Switzerland members. The course includes
a two-day virtual training (Friday / Saturday) from a an authorized PMI Disciplined Agile partner (PMI ATP)
that will prepare you to take the DASM or DASSM Certification exam
the exam fee for the DA exam from PMI
registration for the online exam from PMI
---
About our new Partnership with

Recently we could win ALVISSON Training, the first PMI® DA Authorized Training Partner in Europe, as a new partner of PMI Switzerland. We agreed on a one-year PMI-ATP partnership and a PMI Chapter member benefits program with ALVISSION Training and their high interactive Live Online Training Program.
To kickoff this partnership, ALVISSION is offering to all our chapter members a very special one-time discount for two Disciplined Agile certificate courses: DASM and DASSM
Find more about ALVISSION: https://www.alvission.training/
---
As a PMI Switzerland Member you can benefit from a 20% Chapter bonus!
Are you a PMI Switzerland Volunteer? Then you will get an additional 10% discount!
If you would like to benefit from this unique Chapter Bonus Program, please login with your PMI Switzerland credentials. (Please use the login button top-right of this page).
When you logged in you will
find more detail about the PMI Switzerland Discount
the PMI Switzerland bonus code
the link to ALVISSIONs special offer for PMI Switzerland with course details and registration
Regular course price

DASM - DA Scrum Master (7./8. May:)

1099,- Euro excl. VAT (19%)

DASSM - DA Senior Scrum Master (14./15.) May:

1199,- Euro excl. VAT (19%)
PROMO CODEs

20% for PMI Switzerland Members:

MEM@PMI_CH_2105

30% for PMI Switzerland Volunteer:

VOL@PMI_CH_2105
Find more details and the registration here:
---
Do you have a question or comment about this event?
Remark: The certification training and the discount is brougt to you from ALVISSION Training. PMI Switzerland will get no financial benefits from this offer.
---
Event Properties
| | |
| --- | --- |
| Event Date | 07-05-2021 9:00 |
| Event End Date | 08-05-2021 17:00 |
| Event language | English |