Collaboration Simplified: Practical Tools to Power Your Projects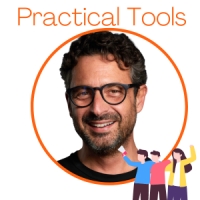 Collaboration Simplified: Practical Tools to Power Your Projects

An interactive session to discover the Team Alignment, the Team Contract and practice with Miro.com
Join us for an insightful session with Stefano Mastrogiacomo, the lead author of "High-Impact Tools for Teams" (Strategyzer Series, Wiley 2021), as he introduces practical and effective techniques to enhance team efficiency and innovation. This interactive session will introduce two powerful tools: the Team Alignment Map and the Team Contract, which can be used together to visually and quickly align project teams.
In this session, you will learn how to:
Run rapid alignment sessions with the Team Alignment Map
Boost psychological safety with the Team Contract
Get pro tips for running multi-teams alignment sprints
Additionally, all participants will have the opportunity to practice the Team Contract in a live Miro board, so please don't forget to bring your laptops! The 45-minute session will be followed by a 15-minute Q&A session.
Location
HWZ Hochschule für Wirtschaft Zürich
Lagerstrasse 5
8021 Zürich

Room 402/3 in 4th Floor
Agenda
18:00 – 18:30 Registration
18:30 – 18:40 Welcome and introduction
18:40 – 20:00 Lecture and Q&A
20:00 – 21:00 Closing and Apero
Our speaker(s)
Stefano Mastrogiacomo

Stefano Mastrogiacomo, PhD Founder of the Team Alignment Company Stefano is the lead author of "High-Impact Tools for Teams." (Wiley, Strategyzer Series, co-written with Alex Osterwalder, foreword by Amy Edmondson), a manual that presents step-by-step instructions and real-world examples for building contemporary high-performing teams: from how to align team members, build psychological safety and trust, and manage conflict constructively.

He has more than 20 years of experience working with leaders and teams at Fortune 500 companies and start-ups, in a variety of industries, including technology, finance, luxury and healthcare. He's the designer of visual tools like the Team Alignment Map, the Team Contract, and the Fact Finder, all based on his experience as a consultant, facilitator, and management academic. His alignment toolkit is used by thousands of teams innovating worldwide.
Information on Privacy
With your registration, you consent that PMI Switzerland publishes any taken photos or videos from this event on all social media channels of PMI or PMI Switzerland.
Pricing
PMI Switzerland members 30 CHF
Non-members: 55 CHF
Cancelation Policy
100% refund is possible for a ticket if canceled the latest 7 days before the event.
Do you have a question or comment about this event?
Our event sponsor:
Event Properties
| | |
| --- | --- |
| Event Date | 15-06-2023 18:30 |
| Event End Date | 15-06-2023 20:00 |
| Individual Price | 30 - 55 CHF |
| Event language | English |
| No. of Business Acumen PDUs | 0.5 |
| No. of Ways of Working PDUs | 0.5 |
| No. of Power skills PDUs | 0.5 |
| Location | HWZ Hochschule - Zürich |