Digital Transformation - a journey or an ambition?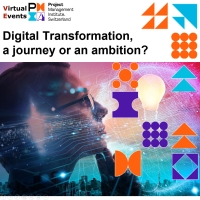 Digital Transformation - a
myth, something far fetched and hard to reach,
or simply a logical next step and evolution of our society and business world?
Digital Transformation is happening, now, in our everyday life, it's all around us and already introduced lots of changes in our business world.
Companies have started ramping up their efforts. Investments in technology, capabilities, and people have increased slowly but steadily.
Are you ready for the paradigm shift that Digital transformation offers to us?
And how are you preparing yourself, your teams, and your businesses for this journey?
In this workshop, we will explore approaches and ways to organize work along the lines of Digital Transformation.
Who should attend?
Anyone who is leading projects/project portfolios, transformation initiatives or dedicated transformation teams, and people who are keen to explore the approaches and opportunities to incorporate digital transformation into existing organizations.
Benefits
You will learn about the paradigm shift towards data-centricity and a digital-enabled future and how businesses can embrace Digital Transformation and the many opportunities (and challenges) that come with it.
At the end of this workshop, participants will be able to:
Describe what Digital Transformation is and how it impacts businesses
Understand the benefits of integrating digital into the overall business strategy and everything we do
Explore and test out concepts and approaches shared during the workshop
Learn from opportunities and challenges that one can expect in the initial phases of the transformation journey


Our speaker: Dominique Schall

Dom is a Digital Transformation Manager in Roche's Clinical Supply organization. He has helped establish a framework for innovation and new digital use case ideas which takes into account data, technology, process, and people aspects.
His passion is to drive innovative ideas forward, connecting people across the organization and to teach others new approaches and new ways of working.
Please be aware that our virtual events may be recorded and published on our social media channels.
Event Properties
| | |
| --- | --- |
| Event Date | 08-10-2020 19:00 |
| Event End Date | 08-10-2020 20:30 |
| Event language | english |
| No. of Strategic PDUs | 1 |
| No. of Leadership PDUs | 0.5 |