Let's play: Facilitating your next strategy planning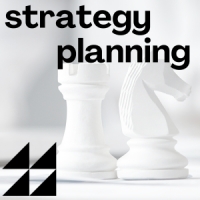 Planning is complicated and painful: it takes time, you are waiting 5 minutes to talk, and someone has to gather all the notes.
Then, in order to make everyone happy, you are starting your journey by doing one-on-one meetings to be sure that nothing has been left. In short, it is a long run.
Now let's imagine you can do this in less than two hours, and have fun. Imagine that everyone has time to raise their voice, be heard, and be aligned on what to do.
That's how we do in agile: sooner, smarter, faster.
Come and join us for a 90-minute workshop with Pierre Neis. You'll learn why facilitating through play is the key to successful strategy planning and experience it yourself!
Agenda
17:30 Door opening, registration.
17:45 (optional) For those who are interested in learning more about PMI there is special presentation
18:30 - 20:30 Workshop.
20:30 Apero
21:30 Doors close
Our speaker(s)
Pierre E. NEIS

Fifteen years ago, coming from Lean Thinking and Portfolio Management, I jumped into the agile world with my entire body. I went through more than 200 agile projects and contributed to several communities.

Ten years ago, as a member of the PMI, I contributed to creating the PMI ACP Certification, which left considerable space for improvement. Five years ago, I was asked by Mike Beedle to join his project on Enterprise Scrum. Unfortunately, Mike passed away, and I used my org development and behavioral analysis research to write my first book in 2020, "The New Normal: AO concepts and patterns of 21-st century agile organizations," and "Swarming X4" in 2021.

I'm a certified agile master coach with several agile certifications levels, still interacting with many initiatives on the evolution of work. I don't distinguish between development and an executive committee of a global organization. In 2014, I created Play14 (www.play14.org) with two colleagues, a global initiative on facilitation and serious games.

Even if I'm a full-time consultant, I'm still involved in Disciplined Agile with the PMI, with Open Eyes on the evolution of leadership, and with the ICF on agile coaching. I'm an alumni of Boston Consulting Group and MIT.
Location
SIX ConventionPoint
Pfingstweidstrasse 110
8005 Zurich
Pricing
Non PMI Switzerland Member: 55 CHF
Early bird discount: 5 CHF until 15th of April
PMI® Switzerland Chapter Member price: 35 CHF
Information on Privacy
With your registration, you consent that PMI Switzerland publishes any taken photos or videos from this event on all social media channels of PMI or PMI Switzerland.
Cancelation Policy
100% refund is possible for a ticket if canceled the latest 7 days before the event.
Do you have a question or comment about this event?
Event Properties
| | |
| --- | --- |
| Event Date | 24-05-2023 18:30 |
| Event End Date | 24-05-2023 21:30 |
| Individual Price | 30 - 55 CHF |
| Event language | English |
| No. of Business Acumen PDUs | 1 |
| No. of Ways of Working PDUs | 0.5 |
| No. of Power skills PDUs | 0.5 |
| Location | SIX Convention Point, Zurich |