The Role of Evaluation in Project Management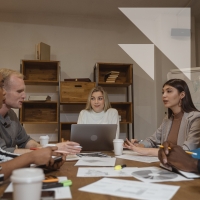 Have you been required to put your project management skills to the test by evaluating someone else's project? Or been tasked with developing a performance management framework for a project you are leading, one as ambitious as convincing young men and women in remote villages in Liberia to fill their pockets with screws instead of bullets?
If this sounds intriguing, then you won't want to miss this upcoming event.
On 30th March, 2023, the Project Management Institute (PMI) Switzerland Chapter, the Société Suisse de Management de Projet (SMP) and the Swiss Knowledge Management Forum (SKMF) host "The Role of Evaluation in Project Management - From Building a Better Bridge to Transforming Former Child Soldiers into Carpenters", an evening of stimulating conversations around the diversity and importance of project evaluation.
The event will focus on how to effectively carry out evaluations, with reference to determining the relevance, effectiveness, efficiency, coherence, and sustainability of benefits of projects. Additionally, we will explore how to rate a project's ability to promote gender mainstreaming, as well as its management and governance and financial aspects.
For experts and early career professionals alike, this is a fantastic opportunity to expand your skill-set and learn from experienced professionals. You'll gain insights into how to evaluate complex projects and how to apply the most effective assessment criteria. The event promises to be both informative and interactive, allowing attendees to engage in lively discussions and exchange ideas.
So, mark your calendars! Don't miss this exciting opportunity to challenge yourself and learn from industry experts. We look forward to seeing you there!
Our speaker(s)
Dr. Joyce Miller

Dr. Joyce Miller is CEO of a Swiss-based consultancy, Capacity Building Resource Exchange (CAPRESE) Sàrl. Since 2015, she has undertaken evaluation assignments for United Nations' agencies, leveraging 20 years of experience in organisational learning, capacity building, and institutional strengthening in developing and emerging countries.

She focuses on the areas of resource efficiency, the green and circular economies, entrepreneurship, private sector development, impact monitoring, and evaluation.

As well as having coached over 1,000 senior corporate staff on behalf of the International Institute for Management Development (IMD) Switzerland, she co-developed a virtual learning journey in Innovation, pioneering the Institute's first "Global Leadership in the Cloud" offering. She is a founder of PREMAnet e.V., a global network of practitioners and development professionals competent in applying Profitable Resource Efficient Management approaches (PREMA®), as part of the toolset of the German International Cooperation (GIZ).

She also sits on the Executive Board of the Swiss Knowledge Management Forum (SKMF) and co-founded the LEGO Serious Play Community of Practice.
Our partners:


Pricing
Normal price: 55 CHF
Price for PMI Switzerland members : 35 CHF
Early bird discount of 5 CHF until 27.03.2023 23:59
Information on Privacy
With your registration, you consent that PMI Switzerland publishes any taken photos or videos from this event on all social media channels of PMI or PMI Switzerland.
Cancelation Policy
100% refund is possible for a ticket if canceled the latest 7 days before the event.
Do you have a question or comment about this event?
Event Properties
| | |
| --- | --- |
| Event Date | 30-03-2023 18:00 |
| Event End Date | 30-03-2023 21:00 |
| Individual Price | 30 - 55 CHF |
| Event language | English |
| No. of Business Acumen PDUs | 1 |
| No. of Ways of Working PDUs | 1 |
| No. of Power skills PDUs | 1 |
| Location | Impact Hub Geneva |